Scientifically proven formulas
At Peak Nutritionals, we specialise in scientifically proven WPI formulas that help athletes and fitness enthusiasts of all levels reach their peak.
Our special blend of WPI (Whey Protein Isolate), digestive enzymes and curated additional nutrients work together to help you reach your fitness goals, assist in weight management, and help you gain muscle mass, as well as keeping your body in fighting form.
We are a 100% Australian owned and operated brand, and all of our Peak products are created in our fully accredited factory in Melbourne, Victoria.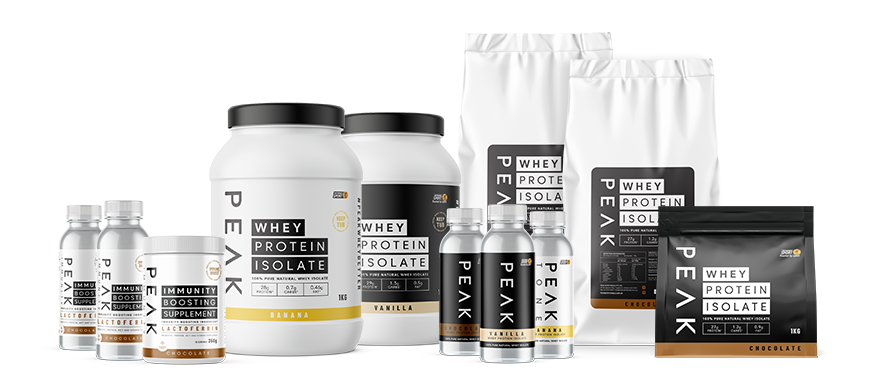 The Peak Nutritionals difference?
We only allow the good stuff in. All of our products are free from artificial colours and flavourings, and our entire product range is both gluten-free and suitable for vegetarian diets, making the products accessible to anyone looking to improve their form in the gym or on the field.
Not only trusted in the gym, we are proud to work with some of Australia's greatest sporting organisations, including the Essendon Football Club, Williamstown Seagulls Football club, Essendon Rowing Club, and Cricket Victoria.
This error message is only visible to WordPress admins
An unknown error occurred
Peak Nutritionals was recommended to me by the Club Dietitian.  It's an easy way to increase my overall protein intake following a session on the track or in the gym.  I also find it is easy, convenient and tasty to add to my smoothies and to use post match to aid the recovery process.
Andrew McGrath
Essendon Football Club
I have used lots of protein powders in the past that had so many additives it was hard to decode - Peak is different. After a workout it's a perfect pick up in a smoothie. My stomach is full and my muscles recover really well!
Getting back into health and fitness after becoming a mum has been hard. I've been taking the WPI for a month now and with daily walks and my once a week PT session, I'm finding it's helping me get rid of the excess weight and it's kept my fuller for longer which is perfect for a mum on the go!
After the last Melbourne marathon, I crossed the line and was pretty wrecked! The last thing was trying to stomach another gel or electrolyte drink, however, I had a small sample size of Peak with me for the finish. I mixed it up with water, sipped it down, and after 30 mins I felt like a fully functional human again.